2012 Nov Fish Street Distributor Jebao WP40
2013 May Fish Street First Release Jebao Wp-25
2013 Oct Fish Street First Release Jebao Wp-60 Jebao Wp-10
2014 Feb Fish Street First Release for Jebao Twins controller
2014 May Interzoo Fish Street help jebao factory to First Release RW-4 RW-8 RW-15 Rw-20
2014 Oct First Release Jebao DP4
2015 Jan First Release Jebao DP2
Fish Street involves on the factory to help and develop much Jebao item. Follow us as the big replacement support center. For replacement kits you can order with us which factory not supply
23/4/2014 In Stock Now for US Warehouse. Can send out on CA/NJ Warehouse UPS Door to Door
2014/4/21 Twins Controller in Stock now. Due to high Demand of Order. Assume 1 to 3 days can send out Parcel.
2014/4/11 Twins Controller Package Pre order now due to high demand of order, waiting 3 to 5 days on send out parcel.
2014/4/9 All Twins Power Supply have a new connector for fixed connection issue now. Order before 2014/4/9 customer can contact us to resend. New Customer can provides new upgrade version for Standard Power Supply
2014/4/4 Based on the EU/ US IEEE Issue, We update all Twins Power supply to Standard Version with 5A Power with 3 Pin Plug(Include Earth Line)
2014/4/02 Release for Extension Cable for WP Pump. If for your pump require longer cable can order here
2014/3/14 If you Already have a 1 Unit wp Pump customer, you can order extra Pump in here to combine Twins Package
2014/3/14 US Customer Order from 14/3 will have a Free upgrade on the Standard Power Supply(Not Twins controller)
2014/3/4 Order from 17/2 to 28/2 can send out on 5 March. Now in stock . After March Order customer please be patient waiting 1 to 3 days on our worker packing. Due to High demand of order we require a time on packing and send out
2014/2/26 Order from Feb 9 to Feb 16 Customer is shipped. For after 17 Feb Customer assume can send out on March first week
2014/2/15 Order on Jan to Feb 6 Customer is shipped. For Order on Feb 6 to Feb 8 Customer can send out on Monday (18/2)
2014/2/13 Accept for Pre Order Now, waiting for 1 to 2 weeks can send out!
2014/2/10 Due to High Demand of Order. Only can Pre Order Now, waiting time is require for 1 month. Be Patient to waiting it for Pre Order
2014/1/24 Fish Street Store first release Jebao Twins Controller. We are grateful invole for factory to Release customer need~ Twins Controller is based on our website Poll for link for Jebao WP Series and FS Type Next Generation FS14000 Pump. We consider for customer need to release
P.S If you Already have Our 12 24V Power Supply that mean you only need upgrade controller only, that mean we invole for factory news for future goods. Our 12 24V 3A Version is can operation directly with wp25/wp10 package
Do Not Try to using Orginial Power Supply Connect with Twins Controller! It's will BURN!!!!!!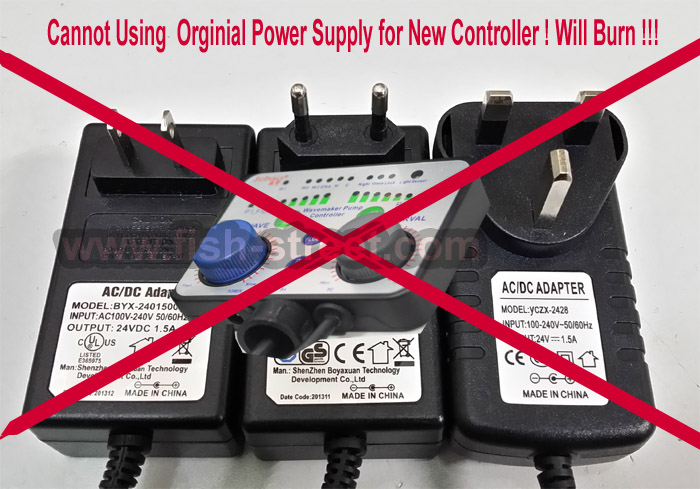 What New Feature for Twins Controller
1) Twins Controller can Save 1 controller and 1 Power supply socket
2) Twins Operation can provides more flow and output
3) Twins button can operation from 30% to 100%, more better than orginial S1/S2/S3 50/75/100% Power. More flexiable
4) Twins Mode have a switch mode function, one can steam, one can wavebox function. Or rotational to swtich A to B Operation
5) Provides US / EU / UK / AU Plug
_________________________________________________________________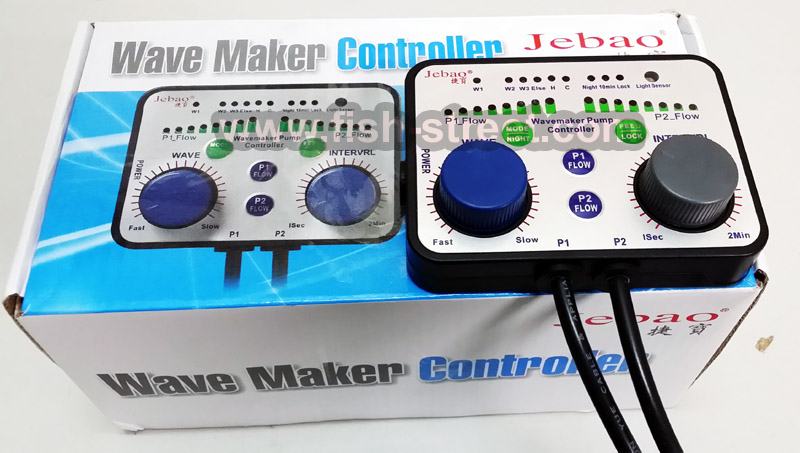 Attention: Based on the Enviroment protection, we will send without orginial box and using recyle Box for repacking shipping. It's can save for the shipping fee. If you require a orginial packing please contact us
What for you requirement for Jebao Twins Controller?
1) You need at least 2 Unit of Jebao Pump or FS Pump
Information (Please READ it Carefully before you order!)
If you are already wp pump/FS owner, you can order here :
1) Controller Only (Not include Power Supply) NO Warraty if you operation a orginial Power supply! It's will BURN!!!!. You MUST HAVE A 12 24V Powr Supply(Single Type) or (Twins Type), beware to Order!
2) Controller with Power supply 5A (For wp40/wp25/wp10/fs14000/wp60)
If You are first time User without wp pump, you can order package here:
4) Package WP10 (Include WP10 x2 Unit with controller Power Supply)
5) Package WP25 (Include WP25 x2 Unit with controller Power Supply)
6) Package WP40 (Include WP40 x2 Unit with controller Power Supply)
7) Package WP60 (Include WP60 x2 Unit with controller Power Supply)
Feature
Buttons and knobs
MODE/NIGHT: Press the â??MODEâ? button once to select the function, long press to enter into Night mode.
FEED/LOCK: Press the â??FEEDâ? button once to get into 10- min feed mode, long press to lock the knob.
P1_FLOW: Setting the flow rate of P1 Pump.
P2_FLOW: Setting the flow rate of P2 Pump.
WAVE(Orginial Wavebox Functin): Adjust the period of wave mode to your desired wave. INTERVAL: Adjust switching mode to switch the period.
W2: WAVE MAKING and FLOW MAKING combined MODE (WaveBox Function + Stream Mode)
P1 is WAVE MAKING mode and P2 is FLOW MAKING mode. You can select the wave pattern by turning WAVE knob and adjust FLOW RATE by selecting P2 FLOW.
W3: SINE mode (Reef Stream Mode)
Power of P1 and P2 is floating between 30% and 100% under this mode, this flow rate looks like a sine curve.
ELSE: Random mode (Reef Stream Mode)
It's irregular mode that power of P1 and P2 is changed continuously as a random value.
H. Flow mode
P1 and P2 can achieve constant flow rate by adjusting P1 FLOW and P2 FLOW
C Switch to Flow make mode. (New Function)
P1 and P2 can switch to cycling flow make in this mode. P1 work, P2 stop--P1 stop, P2 work--P1 work, P2 stop and repeating the cycling by adjusting P1_FLOWâ? 、 â??P2_FLOW
Night mode: Start NIGHT mode by pressing the MODE/NIGHT button for long, withâ??NIGHTâ? yellow indicator shows entering into NIGHT MODE. It will work normally during the daytime and switch to NIGHT MODE during the night in which mode P! And P2 work as the least the flow rate
FEED function:Press FEED/LOCK button, the blue indicator light â??10 minâ? illuminate, the wave maker stop working and water is static for fish eating. It will enter into the start mode before feed mode in 10 minute. If it is needed to return back into Start during feeding, press FEED/LOCK button and 10min indicator light will turn off.
LOCK button parameter adjusting� Press FEED/LOCK button for long until LOCK red indicator illuminates, which means the parameter is fixed. The knob will not change the wave pattern. It is being so to prevent the wave pattern changed by un-intention. Press FEED/LOCK button for long to adjust the wave pattern until the red indicator light turns off.
Sample for WP25 Package