Fish Street Store is now being Europe Distributor as Key LED, Wholesale welcome and directly Authorized by factory. Welcome for Wholesale.
We change LED Chips white and blue chips with sorting from factory default based on our experience for the coral . It's 100% cannot got in another shop from Fish-Street.com. Our expert make is more better from the factory default setting on Ked LED
28/12/2011 Key LED is now in our United Kingdom and Germany Warehouse now, For shipping to EU country, no need to pay VAT Tax(Tax Free). Item send by DPD / DHL within2 days
19/12/2011 Key LED Include English / French / Germany / Netherlands Manaul now, welcome Distributor.
2/11 We release K3 24Wide Plus 140W high Power
For Key 24Wide is 115W . The new K3 24Wide Plus provides add extra more 8 chips. Power up to 140W, increase 20% Power Lux
3/8/2011 New: Release K3 Replacement chips. Customer can self change the LED Color . Click here
3/8/2011 News: Release K3 Lens Kits 2.0 Now Order here
For the Dimming Model have a SPS Power Bar inside
Dimming Model have 16 color setting for the extra remote color, include Red / Blue / Green / White. Customer can set it manual for on or off as you wish. We suppose for Flash Random Color change the wavelength can make for your coral healthy
Why Select for Key LED in Fish-Street.com?
All Key LED is using CREE Version. Compare with Other Brand with Key LED, it is using the same chips, it is no different for you if you using the same chips with other brand. But Key LED Price is mostly lower if using same chips
Key LED provides the a best mostly price rate with customer
New K3 Model Fan is no noise, the Fan will auto start over 45" Degree temperature, that mean your room is silent, compare with other brand, the fan will work always 24 hours a days have a sound and easy have a noise after 6 month to repair
Key Chips is Cree Chips, high value with price
Key LED is using a aluminum , it provides faster method for heat dispersion
Key LED is uing 3W Cree Power Chips, compare with other brand 5W or 30W LED Lighting, it is Lower Heat, save our enviorement and sometime if using 5W or 30W Power, it will make death for SPS if keep the coral on upper side. But Key LED role is provides a cover all same color range on your tank
_________________________________________________________________________
Demo Photo from Customer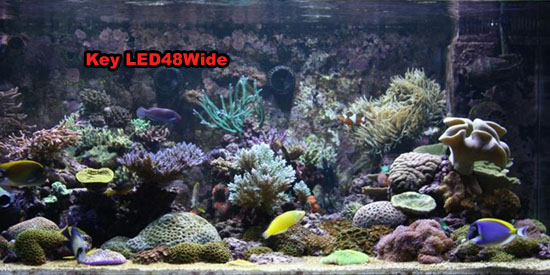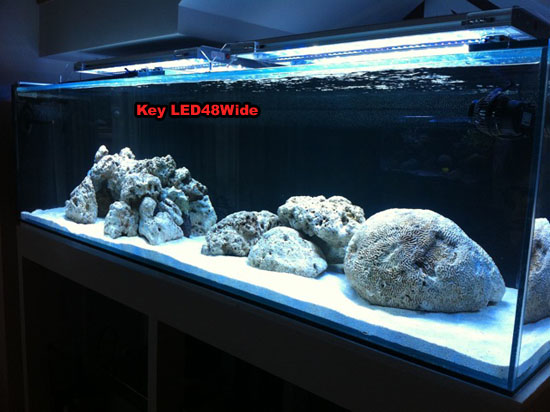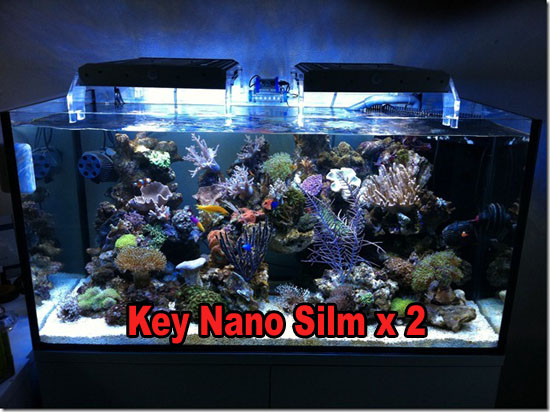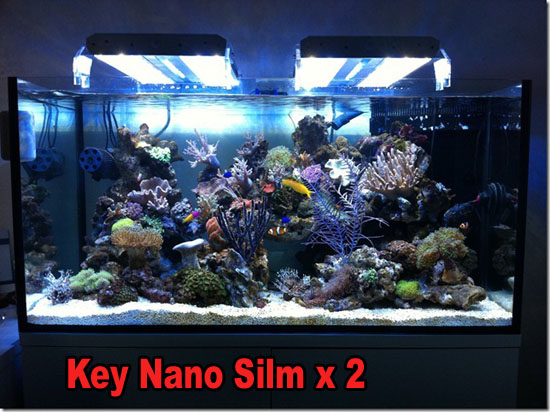 Video for Using 2 Year of Key LED Lighting in SPS
http://www.youtube.com/watch?v=SpJ7gMF_7BQ
Demo Customer (Netherlands) 150cm Tank Full SPS
K3 Ligthng Group Detail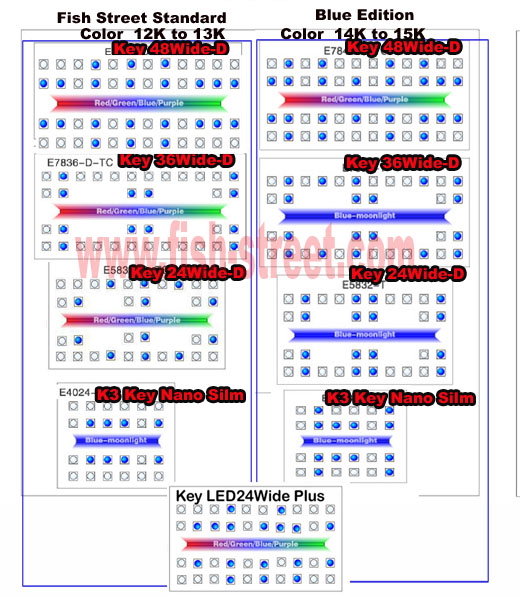 Dimming Effect on Key Aquarium K3 Lighting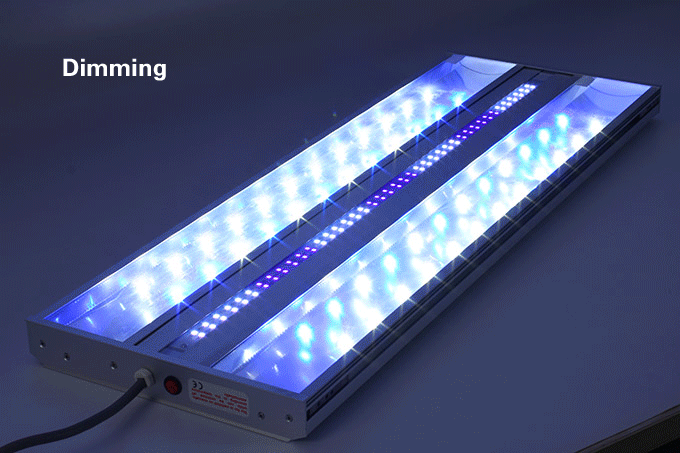 Key Aquarium K3 Lighting Detail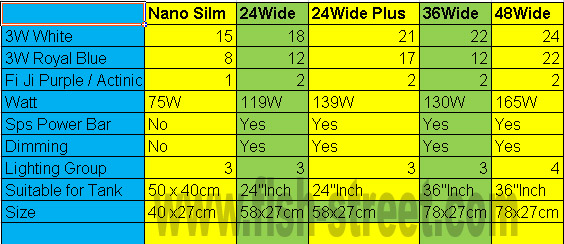 Key LED Build in SPS Power Bar Demo
http://www.youtube.com/watch?v=Y5-aKkXXPyc
More Detail on the K3 Lighting Image Please click the Image file or contact us
Include for K3 include Power Cable / Rack Mount/ Controller and Manual
if require Hanging Kits / Tank Mount please order in shopping cart
SPS Power Bar Information
Speical for Aquarium for SPS / LPS Coral
Remote time controller with sunrise and sunset function
415mn wavelength
Red Green Blue Purple Color
Specification for SPS Power Bar
| | | |
| --- | --- | --- |
| Model | Size | Watt |
| SPS 24 Silm | 58x 7.5 x 4cm | 25W |
| SPS 36 Silm | 78 x 7.5 x4cm | 40W |
SPS Power Bar Remote Controller Function
16 Color Range on Random Flash Model
Separte Control for Red / Green / Blue / White color
(Under mix with Key LED K2 / K3, White mode can increase to 15% on the lighting lumen)
Blue Model can increase to near 16000K on the Ocean Blue color
Red Model can enchance color the Green Star Polyps / Waving Hand Anthelia / Zoanthids
Green Model can make the SPS coral look like shape on the SPS
Using Flash Model can operate Change 16 color a cycle (We highly recommend customer using this model , because it can provides the best color range for your coral healthy)
Strobe Model provides a Strobe White Color(3 to 5 second per time, it can look as a strobe in the actual enviroment)
Fade Model is a build in timer for running 12 hours on the lighting
Smooth Model is a build in timer for running 11 Hours on the lighting
We highly recommend customer using Flash model! Or Using White / Blue / Green / Red model to enchance the Lumen or color range
Key LED Build in SPS Power Bar
http://www.youtube.com/watch?v=BqXHcjWn53M
Key LED provides 12months, include UPS item send back for both . Fans and Cree is include on the warranty
The features of K series:

1. Import high-performance chips, ensure the luminous effects.
The main light device uses high-power LED chips (no need to replace lamp beads in five years; for Cree chips no need to replace lamp beads in seven years). BridgeLux can use 30,000Hrs, and Cree can use 50,000Hrs
2. Low energy consumption, more power efficiency.

LED has the feature of high brightness and low energy consumption, so under the same brightness, using LED, power is only half of the traditional lamp. Besides, LED can emit light from some direction, completely different from the traditional lights, emitting from all directions.
3. No heat radiation, more suitable for aquarium use.

LED lamps do not have any heat radiation, even under the condition that the room is 35°C, and the lamps are close to the water surface, the water temperature will not be increased, which will definitely reduce using chiller or air-conditioner.
4. Excellent lighting effects.

60°condenser cap ( K serials can provide 15°~30°poly masks) , specially designed to focus light, and the nano-reflective bars, fixed on both sides, are to make sure that the light can focus on the aquarium to the maximum extent. The lamps emit fixed fire light, so the corrugated surface of the water can reflect the shadow of everything in the aquarium, showing natural sparkling effect. On the contrary, conventional lamps can not achieve that effect.
5. Single bead is 3W, no hurt on eyes.

3W-chip bead is used for main lighting and if stared for a short time, the light will not hurt your eyes. (Not like metal halide, even stared for a short time, it will hurt your eyes.) Besides the lamps do not contain any UV light, so creatures and humans are absolutely safe.
6. Blue luminous light, dreamy aquarium.

Seawater dedicated blue-ray is a particular wavelength of 465nm blue light, suitable for the vast majority of the growth of marine organisms. Turn blue lights on in the evening, coral, software and fishes can appear fluorescent and fantastic effects.
7. External power supply, low voltage input.

With external power supply, the power weight and heat can not be brought to the main lights. Low voltages, driven to the main light by DC and with short-circuit security system make creatures and humans are absolutely safe.
8. Thin main light, a wide range of installation.

Because of the simple design and thin main lights, even in the embedded wall aquarium narrow space, the LED lamps can provide long-lasting, high-brightness light.
9. Flexible control of light effect by pressing different buttons.

Packet aluminum radiator lamp body ensures group control, that is group opening and closing, which can reduce the power. (Not like the metal halide, turning on or off instantaneously scares off the fishes and software.) In the evening turn on the main lights and at night luminous light can be turned on.
10. Active and passive cooling systems ensure the service life.

Cooling system consists of two parts: active cooling system and passive cooling system. Active cooling system is an overall aluminum radiator. (Even not opening the cooling fan, the heat can also be completely removed, without any bad influence on the LED useful life.) Passive cooling system is composed of multiple sets of fans, which can remove the heat of LED beads adequately even in high room temperature conditions. Besides, KEY's tooth optical cooling technology (patent pending), completely solved the high-power LED thermal problems.
11. Color temperature can be custom-made, which can be used for both sea and fresh water.

The color temperature for seawater is around 12000K and for fresh water is around 6000K. Our LED lamps' color temperature can be used both in sea water and fresh water. Other color temperature of lamps can be ordered.
12. Constant current driver ensure the luminous efficiency.

Constant current power supply are used in all series of high-power LED lamps in KEY, which can high precisely provide constant current power within the scope of beads, which not only increasing the service life, and also ensuring the brightness. Power supplies comply with UL, CE, CCC certification, exporting to Europe and the United States.
13. Installation variety

There are three kinds of installation mode supporting the main light body: hanging type, horizontal bracket-style, vertical rack. All the three modes are in support of 5 ~ 18MM thick aquarium glass.
Key Aquarium K3 Lighting Demo 1
http://www.youtube.com/watch?v=rp3fnsZu384
http://www.youtube.com/watch?v=WZCjEwGLwr0
K3 Key LED Aquarium Customer Demo Tank
(Austrailia) (http://youtu.be/IwEzhrXS83s)
Customer Demo Tank (israel) (http://www.youtube.com/watch?v=S-8Qp8xpCWU)
K3 Key LED Customer Demo Tank (UK) http://youtu.be/ymH6_Z22fVQ (96x 24 x24)
* Nano Silm and Freshwater Model Only K1, factory will not release any time controller for this 2 series* Cree Model provides more 15% Brigher than BrightLux Chips (Testing Report)
Cree Model for 50000Hours / Brightlux Chpis for 30000Hours normal use
Beaming Angle is 60 Degree & Light Penetration Depth is 70cm
Specification
Item is include wall and rack mount Power : 110V to 240V 50/60Hz
Timer Function to controller separte by White / Blue / Moonlighting by K2 LED Lighting
YouTube Video (FULL) http://www.youtube.com/watch?v=Aulmoo9JLTM You Tube Video(Wave Effect) http://www.youtube.com/watch?v=yLg-lxAw_aY Our France Sponsor Customer Philippe Tank (Key Aquarium LED in Fish-street.com)http://www.youtube.com/watch?v=Z4JKRexxOlc Our USA Sponsor Customer Demo Tank on Key24-Wide Cree model http://www.youtube.com/watch?v=Vr9nJKh58XI Customer York(Australia) Display Tankhttp://www.youtube.com/watch?v=iShxEPzG2V8 Customer York(Australia) Display Tank Blue Onlyhttp://www.youtube.com/watch?v=B7cwn2Wqpnk
Blue Editional Version on 500Litres Tank
http://www.youtube.com/watch?v=vQH8-t6UdEE